Veterinary Surgeons
Rachel Davies (MRCVS) PGC SAS – Director
Rachel has been involved with Shepherds for over 20 years; starting out doing work experience here before going to the University Edinburgh to study Veterinary Medicine and qualifying in 2008. Rachel then came to Shepherds as a new graduate vet, working here for a year before moving to an Orthopaedic and spinal referral practice. Rachel returned to Shepherds and became a Director in December 2017.
Rachel went on to develop her interests in soft tissue and orthopaedics by completing her General Practitioner Certificate in Small Animal Surgery in 2018. She is a registered RCVS Advanced Practitioner in Small Animal Surgery, providing surgical options for our patients that could only otherwise be provided by referral. These include complex fracture repairs, cruciate ligament surgeries and airway surgeries. Outside of work she is a mother to Oliver who was born in 2020. Who accompanies her and the two spaniels or horse in the local countryside.
---
Nicola Rolph (MRCVS) - Director
After graduating from University of Liverpool in 2015, Nicola originally started her career in Somerset doing rural mixed practice. She moved to South Wales to join Shepherds and pursue her interests in small animal work in 2016. In 2017, she went on to join a large veterinary company, first running a practice in Barry, then progressing to a national clinical leadership and teaching position. She returned back to the Shepherds team as a Director in 2021. Nicola has particular interests in feline medicine, ultrasonography and clinical pathology. She is also extremely passionate about the professional development and wellbeing of the clinical team, spending part of her time teaching and supporting the newer graduates Outside of work, Nicola spends her time baking, gardening and playing badminton with her husband. They share their house with a beautiful cat called Mia, a very hairy elderly rescue dog called Mortimer and many many fish!
---
Will Sharp (MRCVS)
Will graduated from University of Bristol in 2014 and has been working for Shepherds since.
Will is particularly interested in surgical work and spends a significant amount of time in our operating theatre.
In his spare time Will likes fly fishing and going out in his kayak.
---
Silvia Lunnon (MRCVS)
Silvia joined the team in 2016. She graduated in Germany in 1995. She then moved to Nottingham to complete her doctorate. After which she followed the steps of her childhood hero James Herriot working in a mixed practice in Yorkshire.
Silvia's husband convinced her to move to South Wales where he grew up. Their children were born here in 2001 and 2003. Silvia joined the veterinary emergency service and the PDSA for 10 years, enjoying working in a busy hospital. This gave her the opportunity to learn new techniques and to use state of the art environment.
---
Craig Mackinlay (MRCVS)
Craig graduated from the University of Edinburgh in 2011 and joined Shepherds that same year. After 3 years he moved on to study for a Certificate in Advanced Veterinary Practice in Zoological Medicine. He returned to Shepherds in 2017 as a locum and became permanent again in 2018 to provide an exotic pet service for our clients.
In his spare time he enjoys hiking, spending time with his pets (a royal python, Cuban knight anole and guinea pig) and whisky tasting.
---
Laura Beach (MRCVS)
Laura graduated from the Royal Veterinary College in July of 2018, after achieving a BSC in Animal science from the University of Nottingham in 2014.
A keen musician, she plays a multitude of instruments in her spare time, from woodwinds (flute, recorder, ocarina and tin whistle) through piano to strings (Ukulele). At Nottingham, she was a keen member of the alternative arts society, spinning fire and juggling the night away. She is looking forward to her new life as a vet, and hopes to gain more experience treating birds, reptiles and small mammals as well as the usual companion species.
---
Daisy Markham (MRCVS)
Originally from Essex, Daisy graduated from the University of Liverpool in July 2019 and made the long move to South Wales to join the Shepherd's team. While at University, Daisy developed an interest in orthopaedic surgery and completed a 3 week elective before winning the 'Boehringer Ingelheim BVSc Prize in Small Animal Orthopaedics'.
In her spare time, Daisy enjoys a relaxed pace of life with her Labrador, Maple. They can often be found exploring the fields and beaches of South Glamorgan no matter the weather.
.
---
Alexander Davies (MRCVS)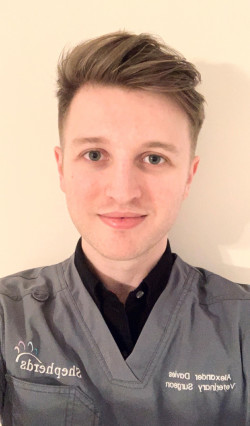 Alex graduated with honours from the Royal Veterinary College in 2020, after completing a degree in Bioveterinary Science at the University of Liverpool in 2016. He was awarded the 'Extra-Curricular Excellence Award' on graduation from vet school due to his commitment to veterinary research and education. Alex has joined the team after completing much of his student training at Shepherds, and has a special interest in surgery but looks forward to developing all of his veterinary skills. Alex's interest in veterinary research has resulted in publishing in peer-reviewed journals. He is currently undertaking a PetSaver's funded project exploring the neurological signs associated with lymphoma in cats. Alex is also passionate about mentoring and veterinary education and supports students aspiring to study veterinary medicine and current vet students through a leadership role at the organisation, Vet Mentor.
---
Elinor Long (MRCVS)
Elinor qualified as a vet from Liverpool University in 2020; after growing up in Birmingham she is excited to be living in South Wales to enjoy the scenery and the seaside. She has a particular interest in medicine, cardiology and neurology - especially when it comes to feline medicine, as she is a self-confessed cat person.
In her spare time she loves baking everything chocolate, and is a keen sports player, having played netball, badminton and rugby at University. When not at work you can find her in the gym or shopping for more baking supplies!
---
Caitlin Glover (MRCVS)
Caitlin graduated from the University of Nottingham and joined Shepherds in 2020 to start her veterinary career. She enjoys all aspects that the job entails but has particular interests in small animal medicine and diagnostic imaging and hopes to take further qualifications in these subjects in the future. Originally from Somerset and having spent a lot of time in South Wales already, Caitlin enjoys going for walks along the coast and exploring new areas but also home comforts such as reading books with big mugs of tea.
---
Sarah Burke (MRCVS)
Sarah graduated from the University of Bristol in 2021 and began her veterinary career at Shepherds. Whilst at university she developed an interest in feline medicine and cardiology, and hopes to pursue this in the future. Originally from Manchester, Sarah is looking forward to beginning a new adventure in South Wales and is excited to explore the local area, particularly the local beaches
---
Jemima Pope (MRCVS)
Jemima is from Swansea originally and graduated from the University of Nottingham in 2021 then moved back to Wales before joining Shepherds. She enjoys all aspects of small animal practice. Jemima is especially interested in internal medicine and hopes to gain more experience in this area and working with exotics. In her spare time, she enjoys running, baking and trips to the beach.
---
Beth Jarrett (MRCVS)
Beth graduated from the University of Liverpool in 2021. She enjoys all aspects of small animal practice but has a particular interest in internal medicine and hopes to develop her skills in this area in the future. Originally from Gloucestershire, she made the move to South Wales as her interests include hiking and exploring the outdoors: on her days off, Beth can usually be found up a mountain somewhere with her ex-racing greyhound, Bryn.
---